Looking for Sustainable Landscaping Solutions?
Discover rebate programs, contractors, and learn about your property options with a simple address search.
Beautiful and Productive Landscaping Solutions
Install a rain garden, put in rain harvesting systems, pull out grass, or add in permeable pavement. There are numerous project types for private property owner rebates and savings!
Incentive Discovery
Unlock the secrets of landscape incentives using stormwater management!
See if there are rebates, discounts, or zero-interest financing options in your area to offset the cost of upgrading your property.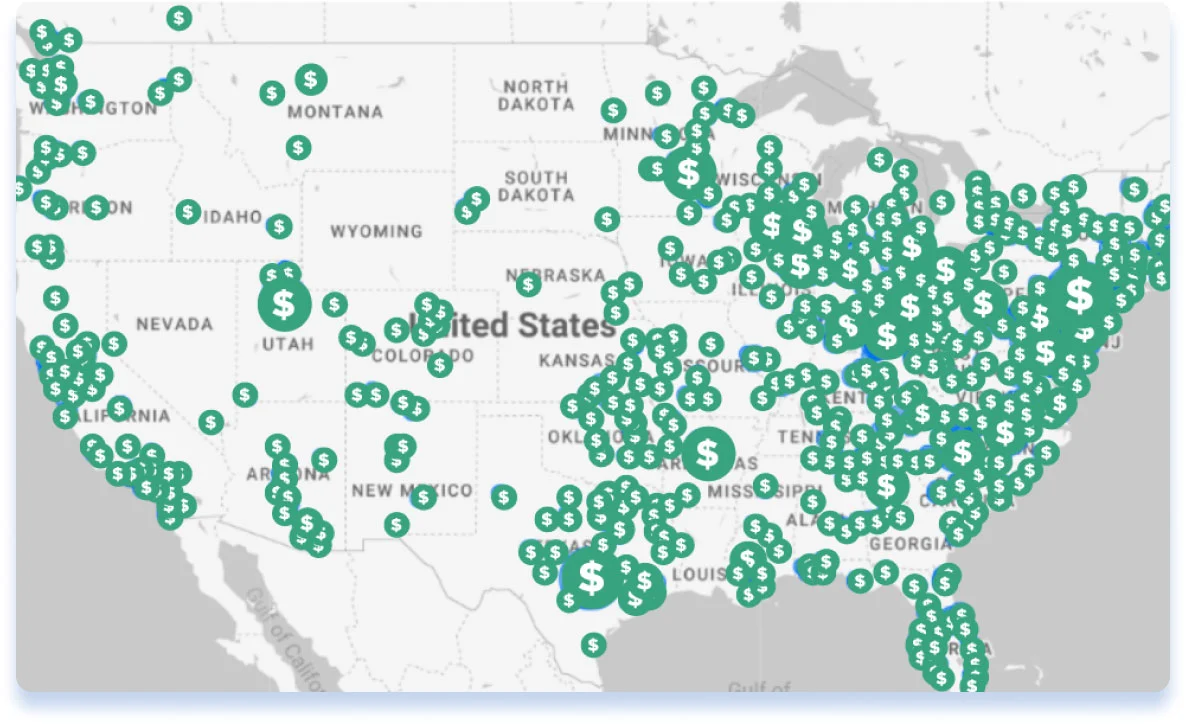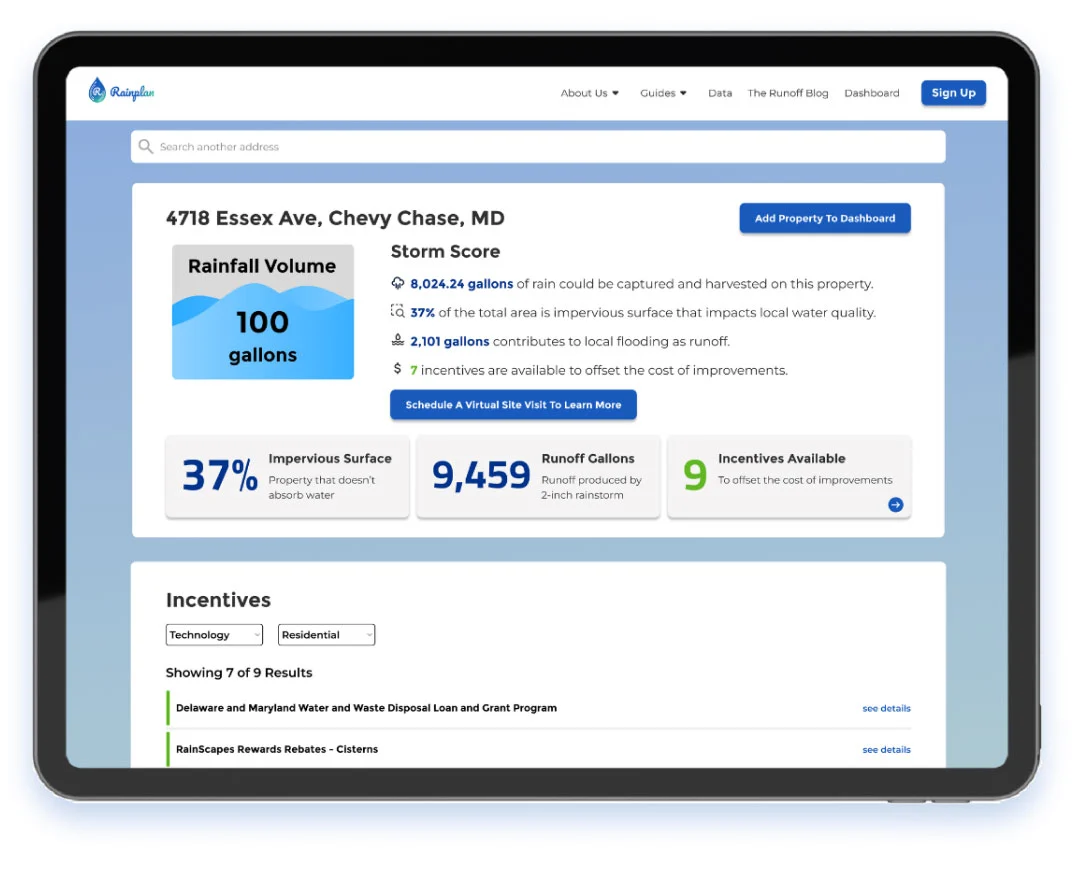 Storm Score
Rain or shine, your Storm Score has something to tell you
Discover potential incentives for your property, where and how to collect rain, its impact on your property, neighbors, and surrounding community.
Virtual Site Visit
Find solutions without leaving the couch
Using high resolution aerial imagery, meet with a local professional to analyze your property, discuss next steps, get cost estimates, and next steps for proposals.
Connect with experts in incentives for nature-based solutions 
Get proposals from engineers, designers, incentive experts, and contractors in your local area.
What is Rainplan?
Let's start with what we are not: we're not contractors. We have some incredibly knowledgeable green infrastructure experts on our team, but we are not contractors.
Rainplan's mission is to increase sustainable infrastructure on private properties. We do this by matching property owners with the most comprehensible stormwater database, including contractor lists, project ideas, incentive matches to help pay for projects, virtual site visits, and more.
How does Rainplan work?
Step 1: Type in a property address.
Step 2: We provide you with that property's storm score.
Step 3: For more detailed information about other available programs or financing, create a free account to set up your property dashboard.
Step 4: Use one of our many tools to help inform and guide you on your stormwater process. Tools like the Virtual Site Visit, Browse Incentives, Contractor Match (coming soon), and more. 
Step 5: If you want us to handle the tedious filing process, you can hire us to file and organize all your documents to guarantee that you hit every target necessary to receive an incentive.
What services does Rainplan offer?
Our flagship service is helping you create a Rainplan. Whether you're looking to solve a specific problem, curious about specific technologies, or just exploring your options for a future renovation, we help you create a plan to manage stormwater on your property.
Incentive Matching: We offer a free search engine and dashboard to save your property searches. Creating an account to keep track of possible incentive programs is free to everyone.
*** In specific markets such as Virginia, Maryland, and the District of Columbia, we also offer "Early Access" services such as;
Contractor matching: where we help you find the best possible contractor for your project.
Rainplan's Green Spending Advance: we provide upfront financing for your project and will pay the contractor directly, so you don't have to. You pay us back after the completion of the project in monthly installments.
Is there anything specific that Rainplan does not do?
Rainplan is not a contractor. We will not be doing any engineering work or installation of your project. We can't give you the pricing on items, that's up to your contractor. 
I already have a contractor. How does Rainplan work with me?
Excellent! If you already have a project in the works we recommend that you create a free account with us. You will also want to contact a Rainplanner as soon as possible to make sure that we can find an incentive program to apply for that will help cover the costs of your project.
Who will a client interact with during each part of the process?
"All my experiences with Rainplan have been tremendous. Everyone has been very responsive and because we were participating in the DC program there was a lot of paperwork, but I didn't have to do that. They pushed it down the road and took care of getting in touch with me if they needed anything. I don't know if I would have been able to finish this process without Rainplan. They took me from the original inquiry all the way to the end. It was so easy." – Amy Butler, DC Rainplan Client
We love that quote because, in a lot of ways, it showcases how we help. If you decide to use Rainplan as your concierge for filing an incentive application, you will most likely be interacting with two people for most of your project process. The first is your hired contractor or engineer (separate from Rainplan) and then your Rainplanner. Our Rainplanners are qualified professionals and mentors who are here to answer any questions about the incentive process related to your project.
What does a Rainplanner do?
Rainplanners are here to guide you to the best possible project for your property type and based on available incentive programs. They will talk with you when you're ready to start a project and send you an assessment to better help serve your project goals. Rainplan's online assessment is the first step in studying your property's water challenges and potential. Our stormwater expert will analyze your property and recommend the most suitable installation that will achieve the following:
Help solve any drainage or flooding problems

Utilizes the maximum amount of incentives available in your area

Adds the most value to your property
Do you have any references you can share?
How can I learn more about Rainplan?
Rainplan has a variety of areas in which we educate and empower. We strongly encourage you to explore our blog which we call "The Runoff". It has client testimonials, thought pieces from experts in the field, infographics, and more to better help you understand why and how we work with stormwater incentives.
Are there minimum requirements in order to qualify for an Incentive?
Each incentive program is different and has its own unique standards and requirements based on the local government or region offering the incentive. Some programs will require a minimum project size of your rain garden or permeable pavers, some may require a minimum of impervious area to be treated. It varies from incentive program to incentive program.
Rainplan helps you discover what incentive programs your property is eligible for and understand the program's specific requirements to ensure you maximize and receive your benefits!
I have a list of incentives, what are my next steps?
Select the incentive(s) that you wish to take advantage of, and we will get started on processing your application. 
I have selected an incentive to move forward with, what are my next steps?
Once you select your incentive Rainplan gets busy working on your application and verifying eligibility. Once completed we will schedule a consultation with one of our Rainplanners to walk you through your application for approval prior to submitting it to the incentive program administrator for approval.
Once my project is completed what do I have to provide in order to get my eligible incentive?
Each program typically has an application process that lays out the specific process you need to follow in order to successfully obtain your incentive benefit. Typically you have to file an application so that the government can reserve the funds for you, and so that you are made of the specific requirements for that incentive program. Once you get confirmation that you project has been accepted and *approved (based on you completing the installation), you can start your project. Once your project is completed you must complete the application process by signing that you accept and understand the maintenance requirements, and schedule final inspection.
Rainplan helps ensure property owners receive their incentive benefits, by streamlining the documentation needed for the application process, helping ensure that your installation meets all of the program's requirements, assist with the selection of a qualified professional installer, and scheduling your final inspection to pass!
I have selected an incentive to move forward with, what are my next steps?
Once you select your incentive Rainplan gets busy working on your application and verifying eligibility. Once completed we will schedule a consultation with one of our Rainplanners to walk you through your application for approval prior to submitting it to the incentive program administrator for approval.
I don't have any incentives in my area. What do I do now?
First, we recommend creating an account so you can see both local and state incentives, plus if you are in our Early Access regions (Maryland, Virginia, and DC) you will see our Green Spending Advance options. After creating an account if you still do not see any incentive programs, this means that currently the local incentive programs are either full or closed at the moment. When programs in your area reopen we will notify you.
We are striving to be the catalyst for the adoption of nature based solutions by streamlining an enriched online platform that makes the process accessible for everyone. We are in beta with some of our offerings, but by signing up for a dashboard we can keep you updated on new experiences and future updates.
—The Rainplan Team